Kentucky works towards curbing abuse in public schools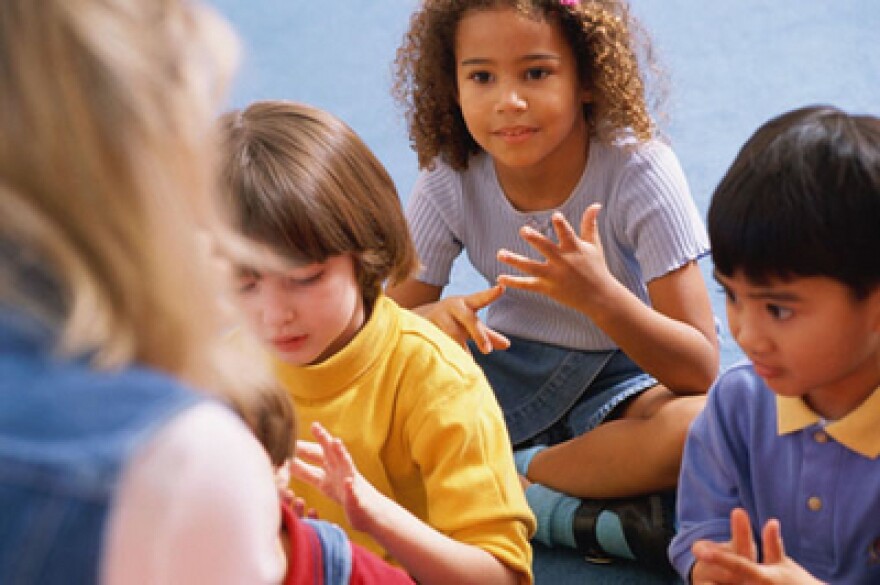 By Caleb Campbell
http://stream.publicbroadcasting.net/production/mp3/wkms/local-wkms-885200.mp3
Murray, KY – A shocking new report released by The National Disability Rights Network suggests abusive use of seclusion and restraint on school children and a lack of state and federal regulation governing such practices. Kentucky has been working on revising their guidelines concerning these practices in public schools. Caleb Campbell has this story.
About two weeks ago Janet Board got a phone call from her grandson's school in Meade County. It wasn't the first time this had happened. Her grandson, who we'll call Sam, suffers from O.C.D., early on-set bipolar and post-traumatic stress. School officials made the call because Sam was acting erratically again, a behavior pattern that had been with him throughout his entire life.
"When I got to the school they told me he was in the gymnasium. I went down there. A principal holding one arm, a teacher holding the other and another teacher sitting on him pinned against the gym floor."
A police officer was also present. Janet tried to calm her grandson. When the school instructors let Sam go, he began to lash out at the adults around him, screaming and throwing his arms about. The police officer immediately twisted Sam's left arm behind his back
"And I said What are you doing? He's only nine years old,' and the reply was I don't care how old he is.'"
The police officer then pushed Sam into a concrete wall, pressing his face to the cement. Janet then asked the officer to release her grandson. She took Sam's hand and led him out of the gym.
Sam's story is just one of many reported in the United States each year. The National Disability Rights Network released a 2009 report detailing several similar incidents in all states. Since the reports release, the federal government is taking action. Also, Kentucky is one state that has been revising guidance concerning seclusion and restraint practices in public schools.
While the Kentucky Department of Education has information on their website about the use of time-out rooms in schools, they have not stated any guidance concerning the use of restraint. Heidi Schissler is the legal director of Kentucky Protection and Advocacy.
"There are two pieces of federal legislation, both House of Representatives bill and a Senate bill that's going to address it and require states to set standards. So we may be waiting to see what's happening with the federal legislation before they move too much forward with the state response."
In September, the Kentucky Department of Education met with superintendents across the state about information they were receiving from the U.S. Department of Education. KDE's public information officer Lisa Gross says Educations Secretary Arnie Duncan sent out information over seclusion and physical restraints to all chief school officers.
"The secretary is really interested on systems of prevention that would minimize the need to use seclusion and physical restraint and we support that. The secretary also talked about the use of a program called Positive Behavior Intervention and Support or P.B.I.S."
KDE has an initiative in place to implement PBIS. The outline for the new program comes from the Kentucky Center for Instructional Discipline. The program provides training to school systems so that teachers and staff can properly discipline a child. Gross says it is a viable alternative to physical restraints and seclusion.
"It's more about dealing with a child on an individual level, trying to figure out what triggers the aggression or what might be going on around this child. What is the environment the child is in? Those kinds of things that are very key to dealing with kids who might have been put in physical restraint or in seclusion before."
The Kentucky Center for Instructional Discipline has already started training in hundreds of schools in the state, providing training and resources. However, children like Sam still have issues with authority and a school system that isn't sure how to handle him. Janet Board just thinks her grandson is just misunderstood. But Janet believes with the patience and care of a supporting school system, Sam will be able to function as a normal student.
"It's so detrimental to him and I think one of the things with him is that he's very intelligent. He does not have a visible disability. It's just hard for the school to accept the diagnoses and think that it's behavior. We've been battling since kindergarten and we're now in the fourth grade."
Janet has opened a case with the Kentucky Protection and Advocacy group to represent Sam during meetings with the school. Janet also filed a formal compliant against the police officer. In return, the police officer filed a counter suit against Sam. Proceedings are still pending.
For WKMS news, I'm Caleb Campbell.