McCracken Co. board schedules meeting to hear about reported economic development contingent on proposed solar farm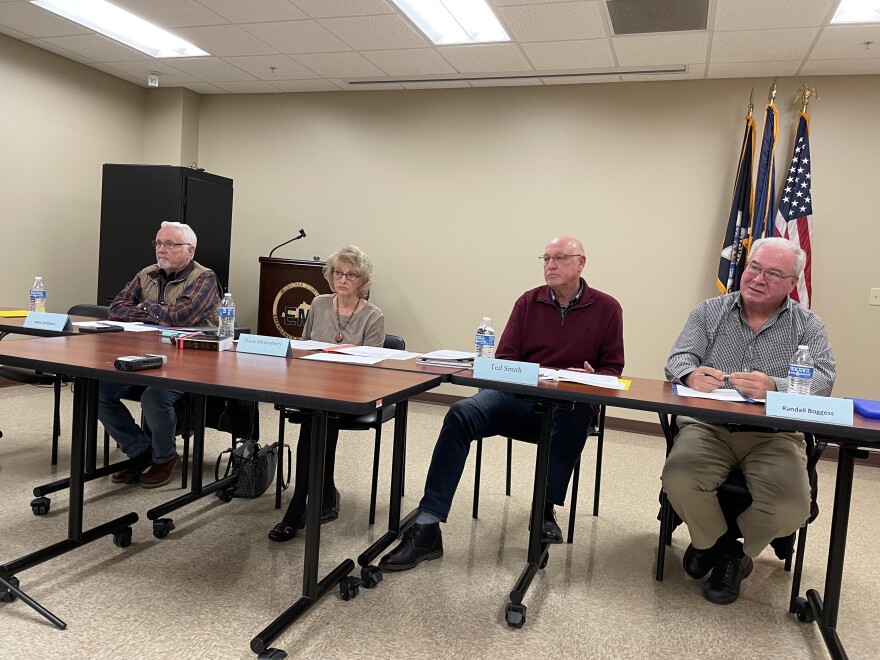 A McCracken County board isn't moving on their denial of a permit for a solar farm until they hear more about a reported economic development project reportedly contingent on the solar farm moving forward.
The McCracken County Board of Adjustment reconsidered a conditional use permit for a proposed $60 million solar farm at a meeting Tuesday after a petition by the county attorney requesting the reconsideration.
The board previously denied a conditional use permit in October for McCracken County Solar, a subsidiary of Pennsylvania-based Community Energy Inc. seeking to develop what would be the county's first-ever solar farm on more than 600 acres in western McCracken County.
Local boards of adjustment are responsible for granting permits to entities with conditions stipulating their use. The McCracken County Fiscal Court changed the county's zoning laws last year to allow for conditional use permits for solar farms in agricultural zones.
Following the permit denial in October, one board member raised concerns about claims the solar panels could harm the land; Community Energy Inc. refutes such claims, stating the panels aren't made with hazardous materials.
County Attorney Sam Clymer in the Tuesday meeting said he filed the reconsideration petition to ensure the board had followed Kentucky administrative law in its denial.
Specifically, he said the board could only consider evidence from the Tuesday meeting and previous meetings in August and September regarding the permit, in deciding whether to ultimately approve the permit. Clymer said while board members may try to collect information outside of a board meeting in a permit decision, only evidence presented in board meetings can be considered.
"The government can't do its own research. The government cannot reach its own opinions or its own thoughts as an individual entity that's supposed to be working as a collective body to do a job for the government," Clymer said. "The individual thoughts of the persons that make up the board are irrelevant, and they're not lawfully able to be considered in the decision-making process."
Clymer also said the board should consider "uncontroverted" evidence presented in previous hearings — facts that can't be disputed or denied — that includes an impact study showing the project would not decrease property values; acoustical analysis demonstrating site noise would be negligible; a study showing traffic wouldn't be impacted during construction and operation; and material safety data sheets for the solar panels detailing the panels would create "no ecological toxicity" with proper use and disposal.
Following Clymer's presentation, the board of adjustment approved a motion to stay the enforcement of the previous permit denial from October and schedule another meeting for Nov. 17 at 5 p.m.
Board Chair Diane Shrewsberry zeroed in on the reason: to learn more about a "multi-billion" dollar economic development project contingent on the solar farm, previously mentioned by other county leaders.
"Despite hours of previous hearings of this application, the board was not presented with testimony or evidence that additional economic development in the county was contingent on this project," Shrewsberry said, reading the approved motion. "If such evidence exists, the board wants to hear it, and we have a duty to do so. While I cannot predict whether or not any additional testimony and evidence will change any members' vote, we wouldn't be rendering a complete decision without it. Not hearing this evidence is unfair to the board, McCracken County Solar, and to the citizens of McCracken County."
When asked by Shrewsberry about such an economic development project, Clymer said he couldn't release details beyond that such projects exist and are dependent on access to "green energy infrastructure."
Community Energy Regional Development Director Chris Killenberg said he believes the upcoming meeting will help the board become fully informed on the solar project, while allowing Community Energy the opportunity to correct misconceptions.
"This has been a lot of information around a project that's new to the county, and it's just difficult, I think, to absorb all that information and come to the right conclusions in a relatively short period of time," Killenberg said.
He said he sent a letter to Greg Cannon, the McCracken County Planning and Zoning Administrator, regarding "findings of fact" presented by the board that he would like to correct in the upcoming meeting.