[Audio] University Chefs Face Off at Regional Culinary Conference at Murray State
The culinary professionals who work to feed hungry college and university students gathered for a regional conference this week at Murray State University. Chefs, dining directors, and vendors from across the south gathered for several days of networking, dining, and competition.
Six chefs from six universities across the south slice, boil, wrap, and fry ingredients at individual cooking stations in Murray State University's Thoroughbred dining room. They are competing in a culinary competition for NACUFS.
"That's a professional organization, National Association of College and University Food Service," Tim Bruce said.
Tim Bruce is co-chair of the competition and executive chef manager for Murray State Dining Services, which is hosting this year's NACUFS conference for the southern region. The region spreads from New Mexico to North Carolina southward, with Kentucky its northernmost state. The culinary competitors come from Georgia Tech, University of Georgia, Vanderbilt, University of New Mexico, University of North Carolina, and Tulane.
MSU Dining Services Director Paula Amols says the conference serves as a place for university food service professionals to network and learn from each other. The conference offers seminars on a range of topics, including strategies for increasing the use of local foods, enhancing retail with mobile, and converting under-utilized spaces into revenue streams. Amols says these seminars and the culinary competition help to elevate the perception of college food.
"Well I think there are still people who have this perception of the old straight line cafeterias and mystery meat and opening cans. And, in fact, I'd say the majority of colleges, their food service features a lot of fresh, scratch made food as much as possible," Amols said. "Some of them are doing amazing things with local gardens, growing their own. They've got talented chefs that have culinary degrees that are coming from the private sector."
District Executive Chef for Tulane University and Loyola University Travis Johnson is one of the chefs selected for the culinary competition. He says back home in New Orleans, he takes his culinary skills off campus to work with at-risk youth and community college students.
"So we get heavily involved in competitions in the city, putting on programs like this and judging and working with the students so when they graduate from those programs they can become certified line cooks and get into the community and start cooking," Johnson said.
Johnson has worked 13 years for Sodexo, Tulane's contracted food service provider. NACUFS is open to all universities, whether their food services are contracted or operated in-house. But Paula Amols says, "The vast majority of schools that really actively participate, in terms of going to conferences, volunteering, serving on committees, tend to be the self-operated ones."
Murray State is the last university in Kentucky to run its own dining services. Amols says other schools may decide to outsource because their program isn't financially successful, is struggling with customer satisfaction, or the university decides it doesn't want to be in the business of food service.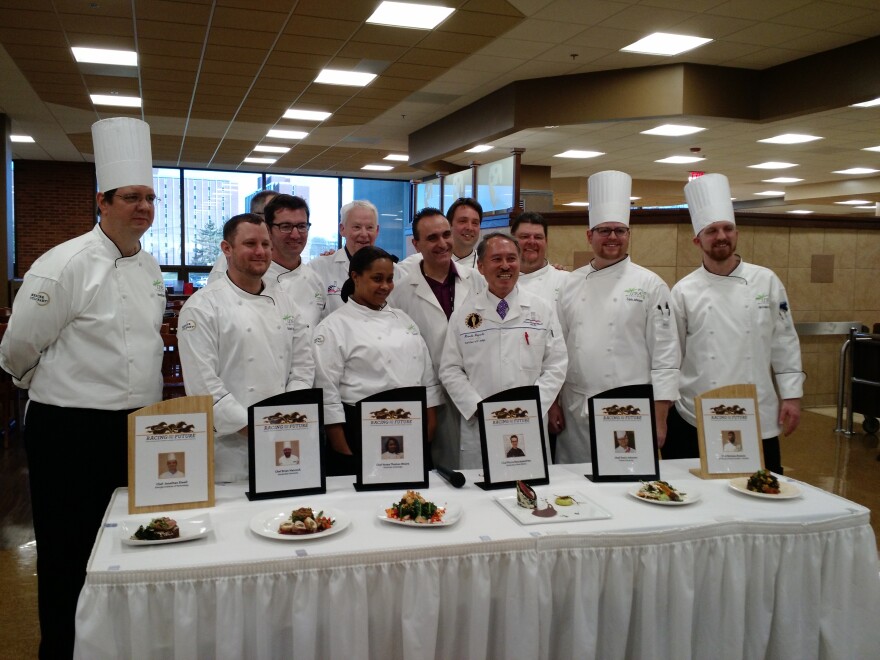 "You know, we're very fortunate here. We're successful financially and give back a lot to the university as a result. And there seems to be very high student satisfaction," Amols said.
Even though there is a sense of competition at the NACUFS conference, the overarching goal is for dining services to help make one another better.
"One of the judges said it and I think he hit it absolutely on the head. We're not competing against the other chefs that are here. We're competing against ourself and the standard. And it's our due diligence in order to uphold those standards and make sure we're being the best chefs that we can," Johnson said.
Chef Jonathan Elwell of Georgia Tech won the southern regional culinary competition. He'll head on to Anaheim, California for the national NACUFS culinary competition this summer.