Paducah Forum Shares Opioid Concerns, Drug Treatment Needs with Congressman Comer
In Paducah, on Monday, Baptist Health Paducah Director of Outreach Dr. Patrick Withrow led a community stakeholder forum with Congressman James Comer to discuss the region's needs for how to best allocate the $3.6 billion in the new 'omnibus' spending bill to combat the opioid crisis. Withrow also called for volunteers to help the many community services working in prevention and treatment efforts.
President Donald Trump recently signed a $1.3 trillion government spending bill that includes more money to combat the nation's opioid crisis, which has particularly plagued Kentucky and neighboring states.
"I wanted to emphasize with all of the media attention to school shootings right now, that's only one aspect - admittedly, an extremely important aspect of our problem - but the root cause to many of these behavioral issues (bullying, depression, drug abuse, etc.) is there's not a single caring adult in some of these families," Withrow said.
Withrow showed videos to underscore his point - one being a clip from a KET documentary about teen mental health and another one calledhttps://vimeo.com/10038566"> 'Born Addicts.' In the videos, the subjects described the need for adults providing supportive or caring environments and also to not blame the mother of a newborn addicted infant, but rather connect her to resources to help care for her child and treatment for her own recovery.
As for how people can help, Withrow said volunteerism is crucially important. Some of those involved in the local organizations Withrow listed in his presentation described the work they do and the impact that work has had on their clientele.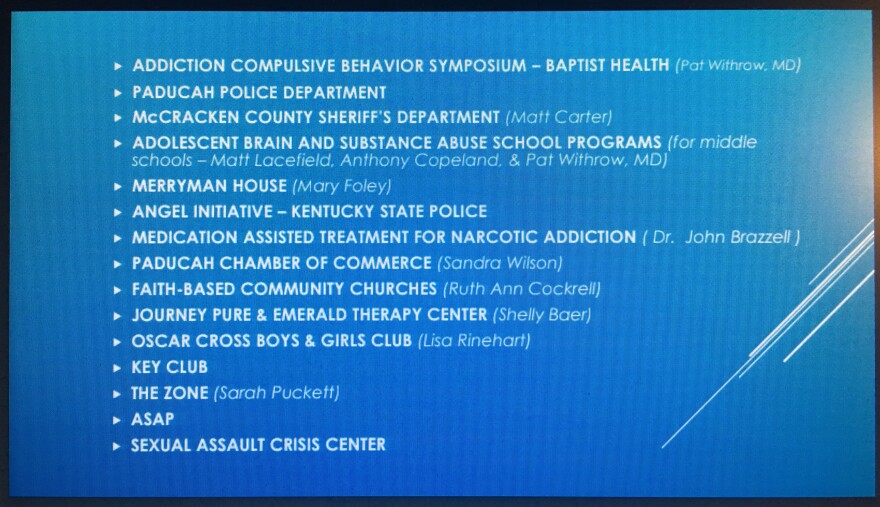 Some in the audience suggested evidence-based curriculums in schools to address addiction others called for more public communication. Another person called for funding 'alternative' treatments like massages and physical therapy. Congressman Comer suggested hemp oil as an alternative for pain relief and made a point to explain that hemp and marijuana are not the same. Some expressed a concern for potential side-effects marijuana might have on families and those who use it. Comer said he does not believe Kentucky would legalize marijuana.
Democratic State Representative Gerald Watkins called for changing prison sentencing to get people on possession drug charges out of cells and into treatment centers.
Grandparents Raising Grandchildren
Leslie Heath lives in McCracken County and is a grandmother. She said she is raising a drug-addicted baby. "There are a bunch of us. I thought I was the only one in Paducah that was raising their grandchildren and I thought, 'why is this happening to me?'" She said her daughter wasn't raised in poverty, didn't go to a bad school and made good grades, but made bad choices later in life.
She said she wants something in the stream of payments (from the federal government) that is aimed at helping grandparents raising grandchildren. "Let me tell you when you're 54 or 55 years old and you start having to raise a six-month-old, you're going to do it. I'm not saying I didn't want to do it, but I'm thinking 'oh my gosh, I don't know all the new stuff.'"
She said she qualified for one payment from the state for $186 dollars a month, which she said is not enough to pay for childcare. "I'm no different than someone taking in a foster child and I'm going to keep my grandchild as long as I have to and she won't need for anything, but there's not a lot of grandparents that can do that."
Congressman Comer said her story was one that stood out from the meeting. "I'm hearing more and more stories of grandparents that are having to raise their children and are not having any assistance and it's no different than being a foster parent. We in Kentucky have a pretty generous foster parent program and I think that needs to be expanded to look at the huge numbers of children that are being raised by their grandparents as a result of drug addiction," he said.
Diana Doggett of the Bluegrass Regional Grandparents Raising Grandchildren Coalition said it's not uncommon for grandparents raising grandkids to feel isolated or alone and suddenly saddled with the financial responsibility of caring for a grandchild. She said support groups are important and found through her work a concern among grandparents of living long enough to raise their grandchildren. She said the federal government could support people like Heath by devoting money to the Child Abuse Prevention and Treatment Act as well as Kinship Care. She also said grandparents need legal assistance and stability in the court process.
In the omnibus bill signed by the Trump, 'Kinship Navigator' funds of $20 million will be allocated to states. An additional $37 million will go to the Adoption and Guardianship Incentives Program. A bipartisan bill called 'Supporting Grandparents Raising Grandchildren Act' is also moving through Congress. This bill specifically references the growing number of 'grandfamilies' due to the opioid crisis.
Heath is not alone. According to the U.S. Census 'Fact Finder,' an estimated total of more than 700 grandparents in McCracken County are responsible for their own grandchildren under the age of 18. That number statewide is more than 55,000, according to Grandfamilies.org.
Opioid Issue 'One of the Biggest Affecting U.S.'
Comer said the opioid issue is one of the biggest affecting the United States and said it's getting worse. Of the new funding, he said, "I just want to make sure that what's being appropriated in Washington is making it to the front lines and I'm not confident that it's making it to western Kentucky," he said. He said he wants to support funding programs that are working.
He said the country has seen a rise in poverty and a "terrible breakdown of the family" over the past decade. He wants to get people out of poverty through new economic opportunities. "If you have a good paying job that pays a living wage then you're going to get out of poverty. If you're not living in poverty, you're less likely to live in a broken home." Some of these efforts in Congress, he said, include economic policies that include cutting taxes and reducing the regulatory burden and trade agreements that boost the 'blue collar worker.'
He said he's a "big proponent" of faith-based recovery efforts and wants more people to have faith in God, citing that some school shooters are atheists (detectives who interviewed the teenager charged in the Marshall County shooting testified that he had said he was an atheist in an interview).
When asked what treatments are most effective, Dr. Withrow said: "There are a variety of them and what's effective is whatever works." He said some are spiritual-only programs (no drug assistance) and other people need buprenorphine or suboxone to make any progress. "With opioids, it's not unusual for someone to go through six treatments," he said.
How exactly the federal funding will be applied and how much reaches west Kentucky remains to be seen, but in the meantime, there is a way for people to help. Withrow said, "Be a dear and volunteer."