A Hopkinsville Alien Tale Has Inspired A Yearly Festival, A Musical and Pokémon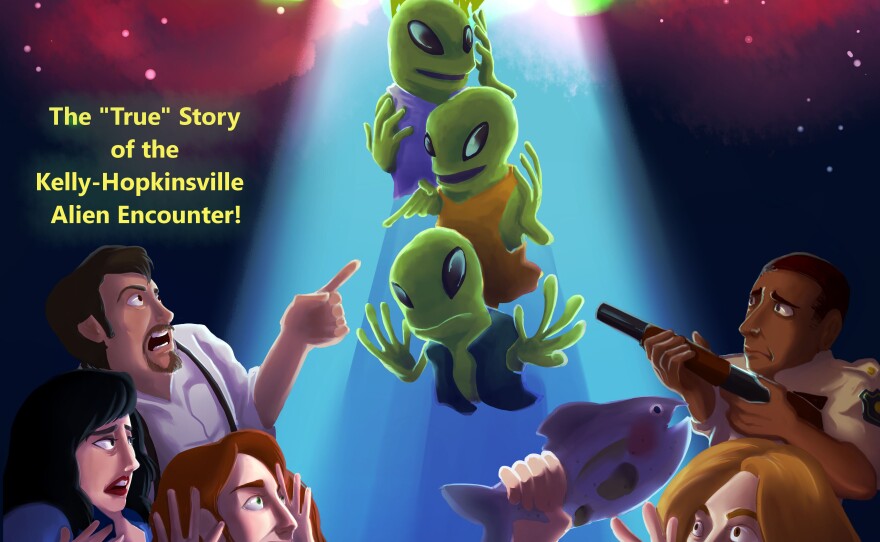 Sam Locke/The Annoyance Theatre
The production of "It Came From Kentucky"
Sam Locke/The Annoyance Theatre
The production of "It Came From Kentucky"
Sam Locke/The Annoyance Theatre
The Pokémon Sableeye's appearance is based on the Hopkinsville Goblins, according to GamesRadar"
Pokemon.com
The sixth annual Little Green Men Days Festival is unfolding this weekend in Hopkinsville. The event marks the 61st anniversary of a well-known alleged alien encounter in rural Kelly, Kentucky.
On August 21st, 1955, a farmhouse belonging to Lucky Sutton was besieged by what his family called 12-to-15 "little men" with long arms, huge eyes and a metallic appearance. Whether or not the story was true, it's become one of the most circulated UFO stories and is now celebrated with the festival, which features live music, a costume contest and a recreation of the aliens' flying saucer.
Sam Locke works with The Annoyance Theatre in Chicago. A native Tennesseean, Locke was inspired to stage a musical last year called It Came from Kentucky with puppets in the role of the Hopkinsville Goblins, as they are popularly known.
"I was trying to think of a show I could do for adults that would have puppets in it and the fact that the Hopkinsville and Kelly encounter mentioned that the aliens could jump high distances led me to decide to go with that story," Locke said.
According to videogame website GamesRadar, the aliens' distinctive appearance also inspired the design of a Pokémon called Sableeye.
The festival is open from 10 a.m. to 9 p.m. Saturday in Hopkinsville. It's held near the site of the Sutton farmhouse on Old Madisonville Road.