MSU President Talks Coronavirus Budgeting Challenges
Murray State University is just past five weeks into the fall semester, but university leadership is already looking to the spring semester and the budgetary challenges that lie ahead.
MSU President Bob Jackson said the university's administration is working around potential budget shortfalls along with increased spending requirements -- all the result of the coronavirus pandemic.
Last week, Jackson said, the university submitted a preliminary budget draft proposal in accordance with the state's request for all K-12 and higher education entities to prepare for an 8% decrease in state subsidies. He said that equates to an approximately $3.5 million loss for MSU.
Meanwhile, the university spent in excess of $1.7 million making special preparations for opening campus to in-person courses for the fall 2020 semester. Jackson said those preparations included a new, temporary building next to the Winslow Dining Hall which offers additional seating in accordance with social distancing guidelines. He noted a number of other expenses including new and additional technology which accommodates remote learning, Zoom access for all faculty, staff and students, hand sanitizer and signage across campus, and the 'Racer Safe and Healthy kits' including face masks, sanitizer and thermometers for staff and students.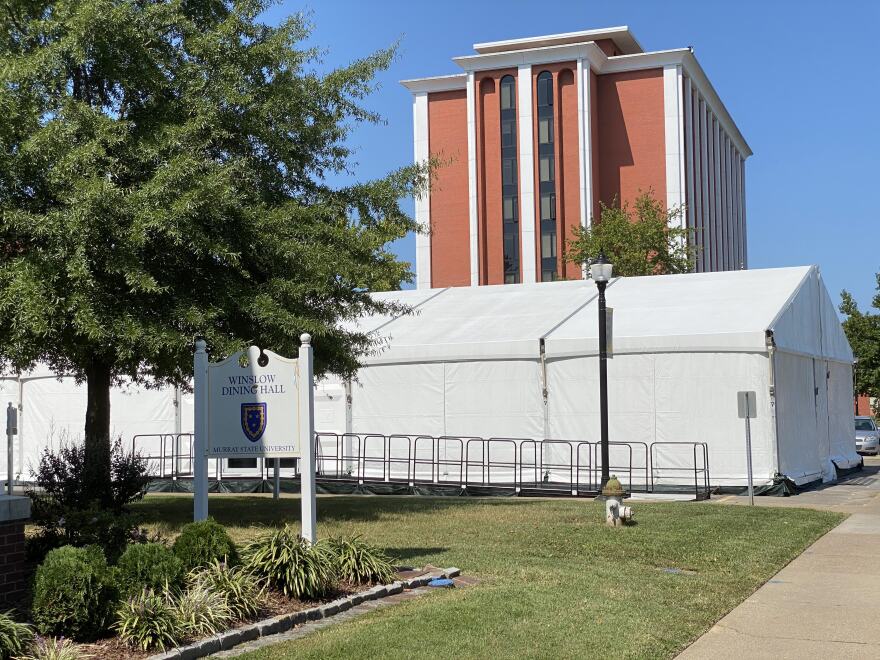 Jackson said the $3 million in CARES Act funding the university receiving earlier this year helped offset some of those costs, but the funding also had to assist with the costs the university incurred when refunding dining and housing costs in the spring. He noted there will be additional costs associated with reopening campus in spring, as well.
While facing down a potentially significant decrease in state funding and additional costs, Jackson said another federal stimulus funding package is crucial for colleges and universities.
"It's badly needed for Murray State University, it's badly needed for all colleges and universities in Kentucky and around the country. It's a significant expense for everyone to open in this environment," he said. "We're still months away from this pandemic ending and we need the additional assistance, and the state is under a great deal of pressure as well."
"It's a significant point in our history and we need assistance in addressing it," he added.
Negotiations for a second federal stimulus package are reportedly ongoing, with partisan bickering in the U.S. Senate at the center of the gridlock. U.S. Senate Majority Leader Mitch McConnell, during a recent visit to Murray, said he supports another round of stimulus funding including support for education and wage replacement for unemployed workers, but won't sign off on a package which doesn't also include lawsuit liability protection for employers.
A MSU campus-wide email Friday announced the spring 2021 semester will start one week later, and will not include the customary spring break.
"We've worked on this for the last several weeks. We want to keep students, everyone on campus, safe and healthy," Jackson said. "We've worked through faculty groups, staff groups, we've talked about this with a number of different constituencies on campus. I think we have a pretty much a consensus on what we need to do to be safe and healthy for the spring."