'Eclipseville' - Path to Eclipse Totality in Hopkinsville, Kentucky
Fields roped off for cars instead of cattle lined the pathway to totality for those headed towards the open fields of Cerulean, Ky. Renamed, 'Eclipseville' for the weekend, Orchard Dale Farms is the "point of greatest eclipse" for the only total solar eclipse the country has seen in the last 99 years.
"This is the point where the Sun, the Mmoon and the Earth align most perfectly. And so visitors to Hopkinsville and Christian County will get the most uniform view of the solar eclipse as it happens," said Brooke Jung, the solar eclipse marketing and event coordinator.
The atmosphere here is calm yet full of excitement as many of the viewers prepare for their first total eclipse. Jung said people from 47 different states, 20 different countries and three U.S. territories have made the choice to view the celestial occurrence here.
WKMS spent the day on the farm along with what appeared as countless other media outlets from across the globe; all there to capture the experience for their audiences back home.
Here are just a few of the highlights captured at Cerulean:
"We are looking at the weather, the birds, the animals and even magnetic fields and how they reacting, before during and especially after—that's the most important part." NASA intern, Yesenia Hidalgo is working on a project that looks at living on Mars.
"The Sun and the proximity to Mars is the driving factor for discovery," said Hidalgo. "Because it is much hotter there than it is here. So the relationship to the sun and Mars, and how it affects it [ provides a point of comparison]," Hidalgo said.
Most of these observations will be released on the NASA 360 website.
From right to left: Dillon Lewis, Bryce Lewis and Alex Thibodeau. Arrived with their fathers David Lewis and Michael Thibodeau from Connecticut.
Credit Nicole Erwin, WKMS
"All of us that came out, we are all a part of boy scouts and actually the solar eclipse, they have little special patch for it. And if you get the patch, then you have seen the eclipse and demonstrated your knowledge of it," said Bryce Lewis.
"I'm Alex Thibodeau and I wanted to see the solar eclipse. I wanted to see some of the formations, like the diamond ring and some of the prominences coming off and mostly having a fun time with my family."
"We were actually heading to Nebraska; there were predictions for better weather out there. We got out to Chicago and stopped for some deep dish pizza and then the weather conditions were deteriorating," it looked iffy he said. "So we rerouted through Illinois and circled back through Kentucky. But we have been chasing the eclipse to make sure we had the best conditions to watch it," said Michael Thibodeau.
"I'm goosebumped and totally ready," said David Lewis.
"We didn't die on the way out, kind of like how my mom predicted that we were. She didn't want us really traveling but I mean we made it here," Bryce Lewis said.
Stamped In Time
"It is almost as if when the sun rises up over the horizon, the sun is really going to shine on my old Kentucky home today. This reminds me of waking up and waiting for the Kentucky Derby, you are waiting for the greatest 2 minutes in sport, but today I'm waiting for the greatest 2 minutes and 40 seconds of totality in the pathway of the solar eclipse," said Alicia Zinnetti, marketing manager for the U.S. Postal Service.
"To celebrate this event we want to postmark history. The U.S Postal Service has made a special postmark for Cerulean Ky, 42215, and so we want to postmark history right here in our great state...We also have our solar eclipse stamp which is the first thermochromatic ink stamp in the U.S. and so you can put your thumb on the stamp and it will reveal the moon," Zinnetti said.
"We are literally stamping Kentucky, this moment in the chapter books of history, all pun intended," said Governor Matt Bevin. "I think it's so great we have so much educational focus, every one of the kids that is actually not out of school and here, from what I understand, every school in KY is going to have kids outside with glasses on. Probably a whole lot of future meteorologists will be developed, literally because of this day."
"Seeing the world go dark in the middle of the afternoon, I mean dark, dark. And feel the temperature drop and just watch the reaction from animals and creatures. This is the thing that I would encourage people to do, listen to what changes. Don't just watch...I'm curious do birds make more noise? Do crickets chirp more because they think it's night time? I don't know. But we will have 2:40.1 seconds to figure out exactly what happens," Bevin said.
Hopkinsville Mayor Carter Hendricks said, "We hit the cosmic lottery with this greater American eclipse experience."
"The emergency calls this weekend have been less than the calls compared to this time last year. So what I think is happening is that eclipse people are just good people looking for an honest experience...Our local residents have rolled out that red carpet of hospitality and everyone is on their best behavior," Hendricks said.
11:56 a.m. Point of First Contact
Isaak Kugler from Louisville said, "The NASA RV here has a bunch of telescopes, obviously because it's NASA, but they had one with its eye hole sticking upwards so that people who come along so they can see the sun. And the moon is just, just peaking out in front of the sun, so just a little bitty, bit of the moon has taken a bite off the sun."
"I'm expecting it to get darker and to see how all of our calculations come out. I'm expecting to take some really pretty pictures." Kugler said. "This is a once in a lifetime event. I'm really glad that I am here and that I am able to look at it. And I'm also glad to be here."
1:24 p.m. Totality (2 min., and 40 sec.)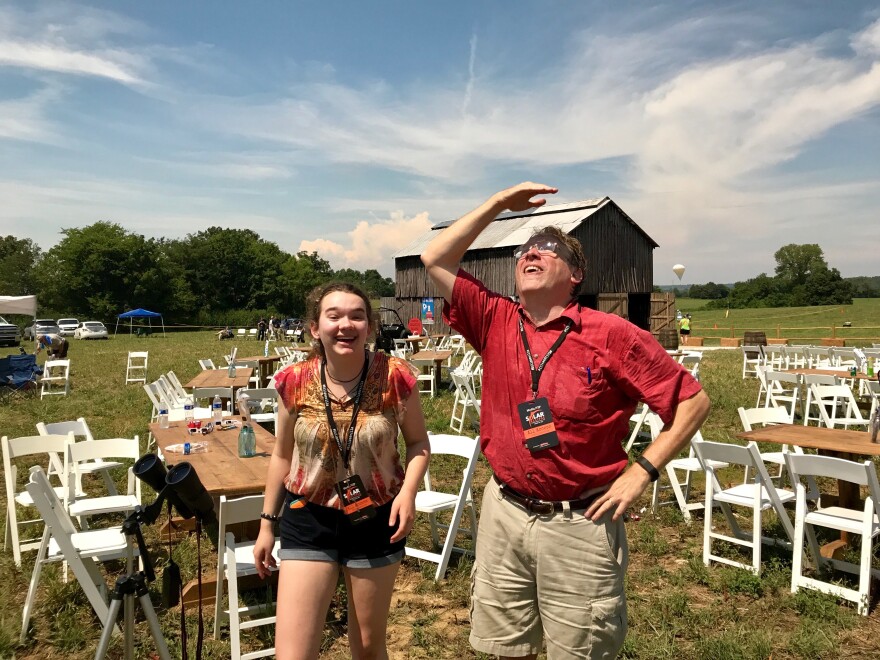 Timothy Dowling is a planetary scientist at the University of Louisville. "I've never actually seen the inner solar system. You can't look at it except for a total eclipse, there all in a line this is the ecliptic plain, the Earth, all the planets are in line. The thing is you can never see it, even a spacecraft has sun avoidance software and they look away because the sun will ruin the cameras," Dowling said.
NASA planetary scientist Jesse Dimeh said, "I've never seen anything like this before. I didn't know what to expect. I mean you see images of the eclipse. That looks nice. But when you see it with your own eyes it takes the breath right out of your lungs. I can't think of the words to express it."
"That was awesome. Words can't describe that. I got cold chills. Now I've got to let it process," said David Toczko of Elizabethtown."This was a great event, they really did a great job putting this on. They made us feel welcome. Really speaks highly of Hopkinsville, they should be proud," he said.